Neru Shawā (ネルシャワー, Nel Shower): Nel's saliva seems to possess some weak form of healing power. She activates it by reaching into her mouth and massaging her uvula, causing her to vomit. The vomit has a similar appearance to saliva, leading her to believe that it is.
Cero Doble: A unique ability where Nel swallows an enemy's Cero and fires it back, with a force exceeding that of the original blast. This ability is indicated by the eyes on her skull mask glowing. Unlike in her original form, Nel does not mix the swallowed Cero with her own; instead, she simply sends it back. While her child form severely limits her Arrancar powers, she is still able to absorb and redirect a Cero blast from a Privaron Espada-class Arrancar in its released form, though the effort seems to tire her immediately.
Chōkasoku (超加速, Super Acceleration): She can accelerate her movements with what appears to be a rudimentary form of Sonído. When she uses this Sonído form, her mask's eyes glow
P O W E R S & A B I L I T I E S
Master Swordsman: As a former Espada, Nelliel has a great deal of experience in fighting, showing hardly any effort in her advanced use of swordsmanship. Her body flows elegantly when engaging in combat, so finely tuned that she can stop her attacks at a moment's notice, and subsequently execute lethal attacks with absolute precision. She easily defeated Nnoitra, who is a highly proficient swordsman in his own right, several times.
Expert Hand-To-Hand Combatant: Even without the aid of her Zanpakutō, Nelliel has shown herself to be quite a skilled fighter. During her battle against Nnoitra, she was able to skillfully dodge and counter his attacks. She also used her swordsmanship in conjunction with her hand-to-hand combat skills.
Sonído Master: Her speed has greatly increased as well, fitting with her former position. She was able to repeatedly sneak up on and effortlessly avoid Nnoitra with her speed. She easily transported the badly hurt Ichigo to a safer place during one of Nnoitra's attacks.
Cero Doble: She retains her attack absorption ability in her original form, but now performs it with greater ease. According to Nnoitra, Nelliel's specialty is to absorb an incoming Cero and fire one of her own while returning it, thus creating a potent Cero Doble (重奏虚閃 (セロ・ドーブル), sero dōburu, Spanish for "Double Zero," Japanese for "Heavy Performance Hollow Flash"). In her original form, the force(s) of the Cero Doble is augmented greatly, since she rebounds the attack while blending it with her own Cero, drastically increasing its power.
Hierro: Nelliel, while in her original form, Nel has Hierro befitting the strength of an Espada. It is strong enough to allow Nelliel to counter Nnoitra's blade with a kick and show no signs of injury.
Enhanced Strength: Her strength is greatly increased, fitting with her former position. With her great physical strength, Nelliel can fend off attacks from gigantic weapons like Nnoitra's, launch her opponent several meters away with a single punch, and effortlessly slice through the Hierro of an Espada-level Arrancar opponent with one swing of her Zanpakutō.[50] She is also capable of stopping Nnoitra's Cero barehanded.
Immense Spiritual Power: As the former third Espada, Nelliel has a grand amount of spiritual energy, powerful enough for her Fracción to sense it from a large distance. Renji even stated that her spiritual power was close to Ichigo's, confusing the two for a moment.
High Intellect: While in her original form, she is shown to be quite intelligent. Having a great understanding of combat and its forms, and the methods behind an opponent's skill and intentions, she can discern personalities easily. She also has a philosophy on life that provides a code of honor, respect, and mercy. However, her childlike antics can sometimes block her intelligence. At one point, she latched onto Ichigo, who was clearly injured, to the point where he passed out, then latched onto him again.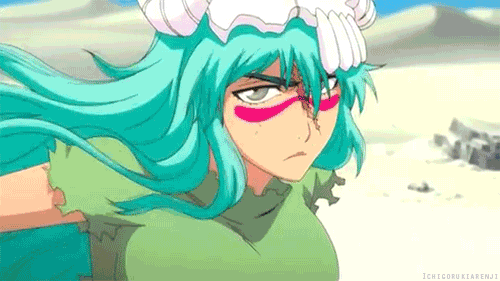 P O W E R S & A B I L I T I E S